First-class hospitality begins with hassle-free registration
From the 4th of July 2020, many hospitality and leisure business operators in England will reopen their doors to the public once again. Find more background information at the pages of BBC. To keep everyone safe and augment NHS Test and Trace efforts, all hospitality venues have been asked to collect and process the following data, with the consent of their customers and guests:
Name of the guest
Date and time of the visit
Contact details (e.g. email address or telephone number)
This data must be deleted by the proprietor 4 weeks after collection.
Paperwork is typically hard to manage, expensive to produce and distribute, and has a high risk of contamination. For the purpose of collecting and managing all this data, we are offering a much simpler and user-friendly solution, that can be up and running within 48 hours.
NETSYNO Software GmbH (Germany) offers together with Digital Design Networks Ltd. and Samsung (both based in England), a very simple web-based app for a hassle free guest-registration. NETSYNO was one of the first software vendors that offer this service in Germany, the service is already in a broadly usage.
Order directly at: http://gastro.inopai.com/order/ | Download PDF Flyer
It can look so easy for your guests: A web-based application for paperless registration
(1) Scan the QR code
Visitors scan a QR code upon arrival with their mobile device. The QR code grants the guest instant access to the online registration form.

(2) Fill out the form
The guest enters their personal information on the form, affirms their consent, then completes registration by submitting the data.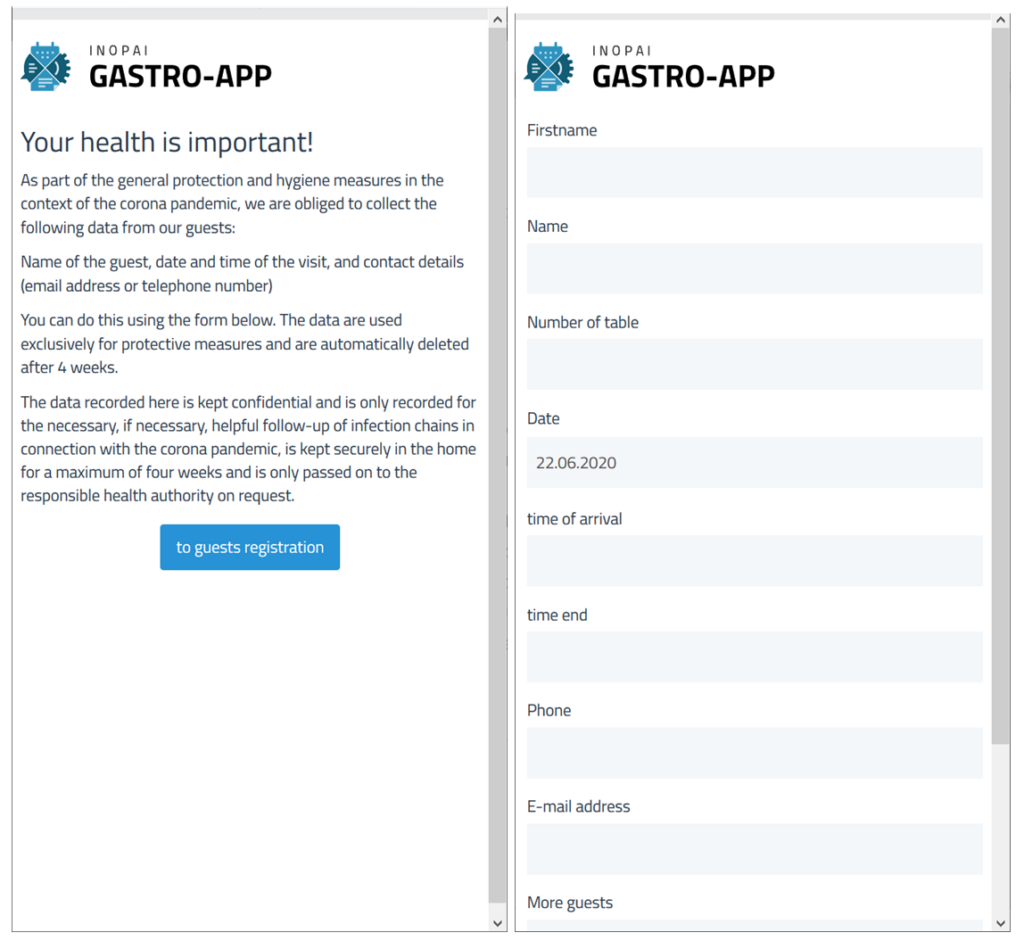 (3) Done
A message will then appear informing your guests about the processing of the data.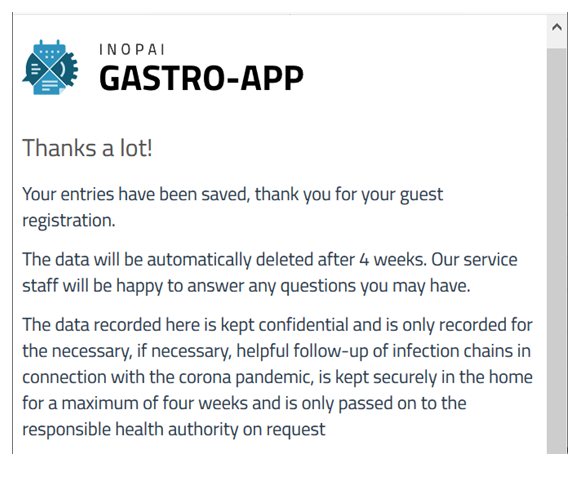 Advantages of a web-based app for the hospitality operator
(1) Simple dashboard with easy manual entry
Guest details can be manually entered by the proprietor in the event the guest is unable to do so themselves. The dashboard presents a clear list of submitted data, making it the central location for both manual entries and self-entered data.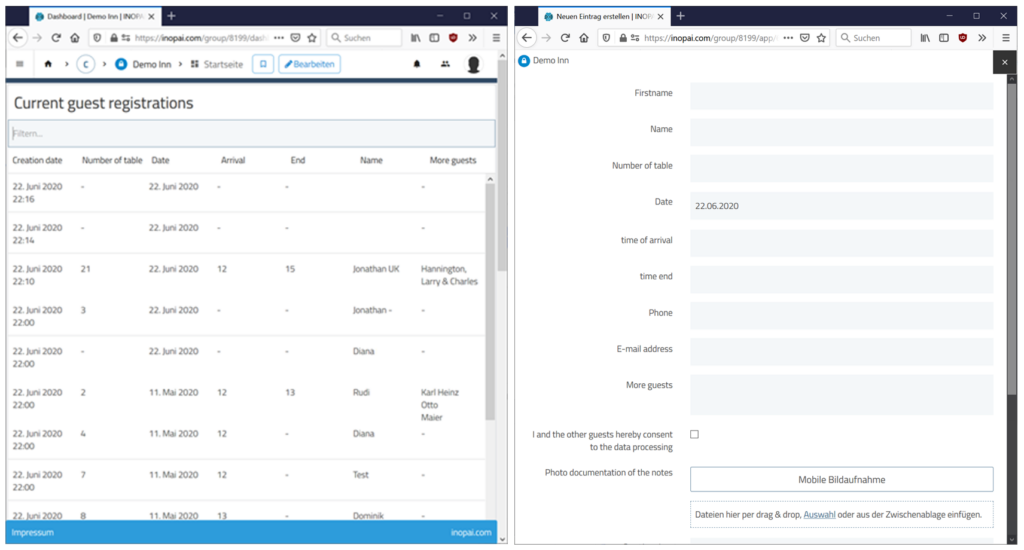 (2) Data is automatically deleted after 4 weeks
The information collected from guests/visitors is completely deleted after 4 weeks. The app does this automatically to protect customer data.
(3) Easy export of data to Excel forma
In the event visitor data is required by public health authorities, all data entries scan be conveniently exported as Excel files. With just a push of a button, all entries are collated and despatched with ease.
(4) No paperwork
Digital registration and data collection has many advantages. Not only is it environmentally-friendly, but it is cheaper to produce and distribute, and it reduces the risk of cross-contamination or infection to employees.
(5) 48-hour quick deployment
The INOPAI solution can be ready to take your first registration within 48 hours. This sort of rapid deployment is vital to help operators receive patrons after lockdown and get back to business in the shortest possible time
Reliable service at a fair price
One-off costs per year (we all hope only one year!), permanent benefits throughout the entire corona pandemic.
The following pricing is an early bird offer for the first 20 locations.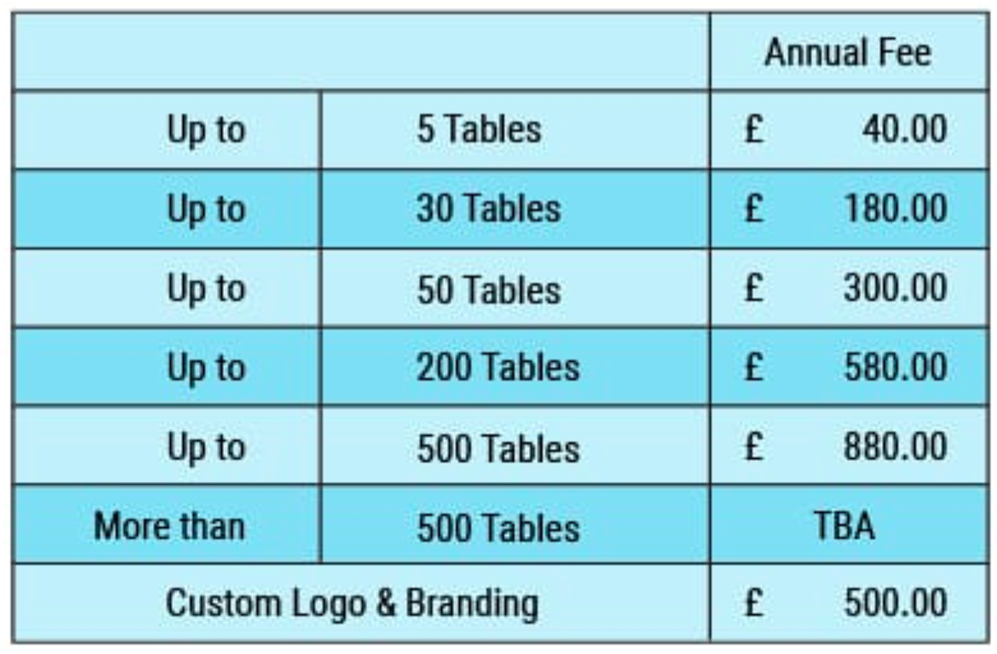 Order directly at: http://gastro.inopai.com/order/ | Download PDF Flyer
Technical requirements
To access the web-based application, all you need is an internet connection (such as Wi-Fi or mobile network), and a mobile device. The form is accessed through the web browser of the device, hence no app installation is necessary.
Demo login
Log in
Web address: https://inopai.com/login/
User: demo.inn@34i.de
Password: demo4inn
Guest form
Web form: https://gastro.inopai.com/demo-inn/
Each guest house receives its own form and QR-code for guests and its own database for the entries of its guests.
Information about alliance

NETSYNO is a medium-sized software company based in Karlsruhe (Germany, headquarters) and Plovdiv (Bulgaria), which was created out of a love for pragmatic software solutions for people.

Digital Design Networks is a family of professionals with over 60 years of combined experience in Digital Signage, Marketing and Content Creation. Our areas of expertise include, but are not limited to, Content Design Strategy, System Design & Specification, Project Management and Service & Maintenance Support.

Samsung (Korean: 삼성; Hanja: 三星; means "three stars" in English) is a South Korean multinational conglomerate headquartered in Samsung Town, Seoul. It comprises numerous affiliated businesses, most of them united under the Samsung brand, and is the largest South Korean chaebol (business conglomerate).

The INOPAI platform powered by NETSYNO enables the digitization of work and company processes in your organization. INOPAI puts companies, their organization and the people who work there at the centre of digitization. On the basis of our INOPAI platform, we can provide this simple solution within a day and are ready for Europe-wide use and operation in accordance with European General Data Protection Regulation (GDPR) with strong partners.
Do you have any questions or suggestions about our gastro app?
Don't delay, contact us for a demonstration today!
Hannington
Email: hannington@digitaldisplaynetworks.co
Dominik Stober
Tel: +49 (0) 171 122 8679
Email: dst@netsyno.com
Further information about
We look forward to your restart – all the best!